With the new year comes a new seating map for the 2023 White Sox season.
As first pointed out by fans on social media, the team has started to implement different tiers of tickets for various sections in the lower and upper bowls. For reference, we have included a seating chart from 2022 (left) to compare to the new one being implemented in 2023 (right).
Though the team hasn't issued any sort of statement on the changes just yet, here are the noticeable premium and non-premium splits based on the new chart:
Lower Box Seats

Gold Box

121-127, 137-143 (Rows 26-30)
128-136 (Rows 26+)
119-120, 144-145 (Rows 1-25)

Silver Box

119-120, 144-145 (Rows 26+)
121-127, 137-143 (Rows 31+)

Premium Lower Boxes

111-113, 151-153 (Rows 1-15)
114-118, 146-150 (Rows 1-25)

Lower Box

111-113, 151-153 (Rows 16-25)
114-118, 146-150 (Rows 26+)
110, 154 (Rows 1-25)

Lower Reserved

110-113, 151-154 (Rows 26+)
108, 109, 155, 156

Outfield and Bleachers

Premium Outfield Reserved

100-105, 157-159 (Rows 1-10)

Outfield Reserved

100-105, 157-159 (Rows 11-28)

Premium Bleachers (Reserved)
Bleachers (Reserved)

Upper Box Seats

Premium Upper Box
Upper Box

522, 542 (Rows 1-10)
524-540 (Rows 7-10)

Upper Box (Light Blue)
Upper Reserved

510-520, 544-558 (Rows 1-10)

Upper Reserved (Dark Green)

510-520, 544-558 (Rows 11-21)

Upper Corners
The Diamond and Platinum Boxes remain relatively unchanged. The biggest updates really come with the addition of the following:
"Premium" outfield seats (which are likely to cost more) now differentiate the cost between the first few rows of the section and the remaining rows.
There is no longer a difference between the higher and lower seats in sections 506-509 – all tickets are now in the same tier.
Sections 119-120 and 144-145 are no longer part of their own tier. Instead, they are grouped as either part of the more expensive "Gold Box" or the new "Silver Box"
The addition of the "Silver Box" on the lower deck that will presumably add cheaper tiered tickets above the Gold Box section. Previously, rows 119-145 were either "Platinum Box" or "Gold Box" seats only.
The re-structuring of zones down the first and third base lines that includes some lower-priced options in sections 110-118 and 146-154.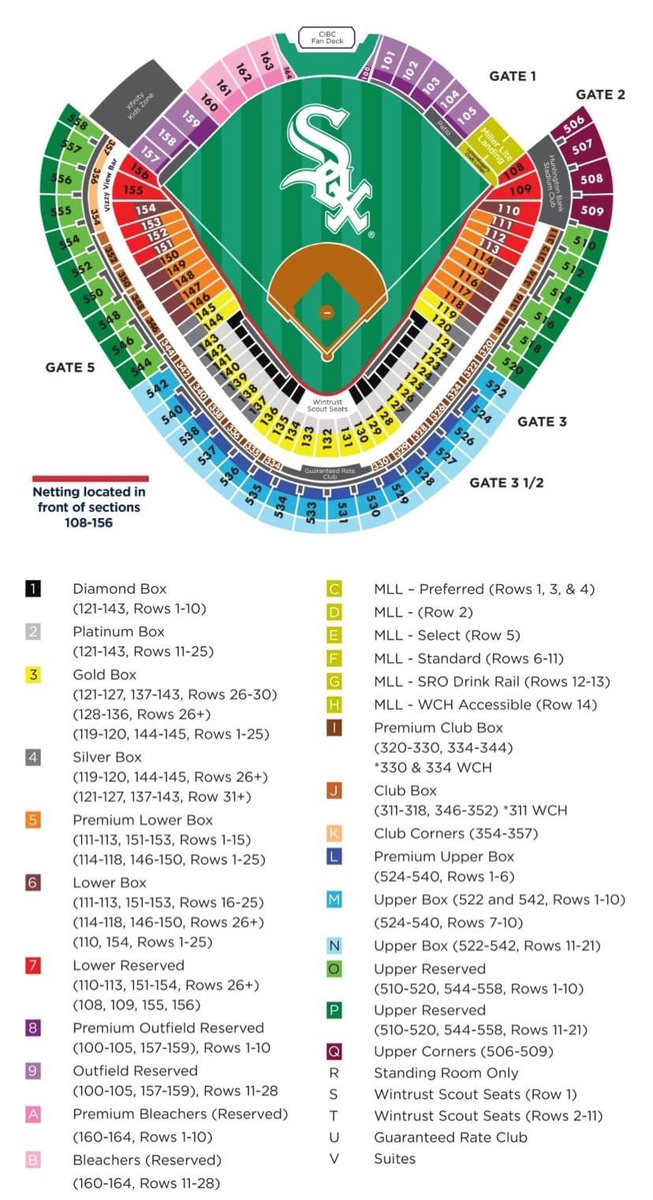 It is still unclear what the costs of each of these sections will be, and to put it frankly, the seating chart has gotten a bit confusing – there are sections in which three different "tiers" of tickets now exist. However, it is likely that the first few rows of the outfield sections will now be more expensive than they were previously, but the last rows down some sections down the first and third base line may be less expensive.
Again, it's hard to tell too much without the actual prices for each section, and your opinion on this change also is likely dependent on where your favorite seats in the ballpark are located. At the end of the day, this could be an overall positive just as easily as it can be an overall negative for a fan base that will need to see some winning baseball to feel good about paying to come back to the ballpark.
We will continue to provide more information as pricing about these sections becomes more widely available.
---
For more updates, follow us on social media @SoxOn35th!
Featured Photo: © Kamil Krzaczynski-USA TODAY Sports