The White Sox today announced a couple of moves today for their ever-changing roster, as Gavin Sheets was called up to the Major Leagues for the first time in his career due to Andrew Vaughn's placement on the COVID-IL.
The White Sox released this statement shortly before 3 PM CT on Thursday: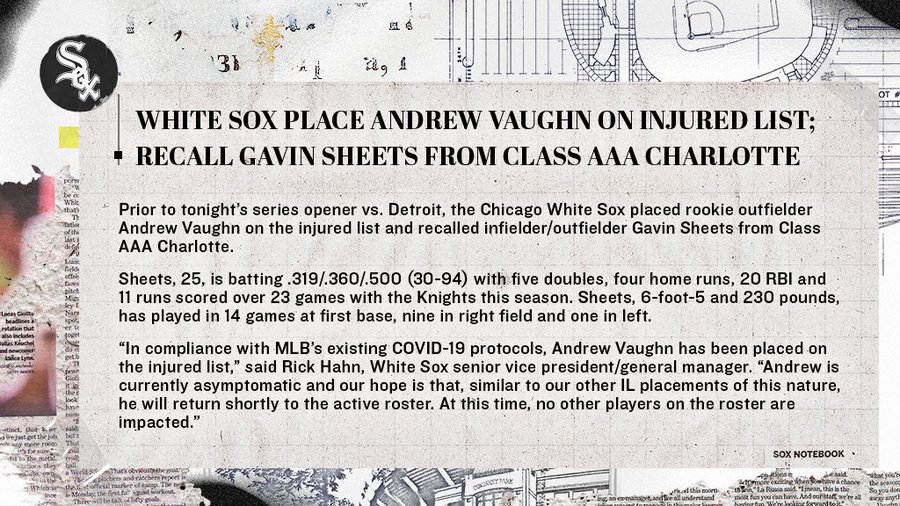 Vaughn's inclusion on this list looks to be precautionary, as according to Rick Hahn, Andrew Vaughn is currently asymptomatic. It is unclear if Vaughn's absence from the lineup earlier this week due to allergies had anything to do with his placement on the IL, but Tony La Russa did make it known that Andrew Vaughn did have COVID-19 before the season.
Luckily, the White Sox have surpassed the 85% vaccination threshold, so this is unlikely to affect anyone else on the team.
In Vaughn's place comes Gavin Sheets, a powerful left-handed slugger and former second-round pick of the White Sox. After a bit of a power outage in 2018 and 2019 (just a .407 SLG in 2018 and .414 SLG in 2019) and his exclusion from the White Sox' Taxi Squad during last year's COVID-19 season, it appears Sheets' power from his Wake Forest days has made its return. In 23 games in AAA Charlotte this year, Sheets has a slash line of .319/.360/.500 (130 wRC+) with four home runs. He has just a 6% walk rate but is also only striking out 20% of the time.
Sheets has seen time in both RF and at 1B this season for the Knights, and his versatility will likely serve him well – the White Sox have a serious shortage of outfielders, and Sheets has the ability to serve in that role. He hasn't made any errors in 73.2 innings in RF this season.
It's unclear how long Andrew Vaughn will be on the IL or how much playing time Sheets is likely to receive, but his ability to serve as a power bat with both infield and outfield capabilities will help the White Sox both now and in the long run. It's been a long road for Sheets, so it's nice to finally see him in the big leagues.
He is not in the lineup tonight against Casey Mize, but it is possible he gets a chance against RHP Spencer Turnbull tomorrow night.
---
Follow us @SoxOn35th for more updates!