"Tim Anderson lucked into the All-Star Game."
"All he does is hit singles."
"People only know his name because he bat flips."
"He's the most overrated player in the game."
If you're a baseball fan, particularly one active on Twitter, chances are you've heard these insults. White Sox fans especially are all too familiar with Tim Anderson slander, but how much of it is deserved?
Yes, Tim Anderson does get a lot of hype. MLB is keen on publicizing Anderson, most likely due to his swagger, infectious personality, and profile as one of the game's most notable young African American players. Inevitably, with fame comes criticism. Certain fans are quick to argue that Anderson produces much less than fellow shortstops Fernando Tatis Jr., Xander Bogaerts, and Carlos Correa.
They may be right—Tim Anderson is not the best shortstop in the league. But looking at the bigger picture, it's clear that Anderson is a star, as his stats put him closer to the top of the league than most would think. He's a damn good baseball player, is the heart and soul of the White Sox alongside Jose Abreu, and deserves every ounce of praise he gets.
---
Chicago's 2013 first-round draft pick, Anderson impressed in the minor leagues on the way to a 2016 call-up. In 99 games, he had a respectable rookie year, posting a .738 OPS and some good defense (according to Fangraphs) on the way to a 2.1 fWAR year. Anderson then took a step back for a couple of years before exploding for a batting title in 2019. He hasn't looked back since.
From 2019-present day, Tim Anderson is good for 26th out of all position players in fWAR. Yoan Moncada is eighth, by the way, but confronting YoYo's disrespect is an article for another time. Right now, Anderson is ranked 34th for all qualified position players for fWAR in 2021 with a 2.8 mark. However, Anderson's injury earlier in the year is a big detriment to his totals. Looking at fWAR per game, Anderson is top-25 among qualified position players. That's right, there's a legitimate argument he is having a top-25 season in baseball.
Of course, fWAR isn't the only metric to measure baseball players. Baseball-Reference is slightly more pessimistic on Anderson, but to a small degree. But it doesn't really matter how you slice it: TA7 has been a great baseball player for three years now, and especially so in 2021.
Let's look at his stats through a more traditional lens: .304 BA, .783 OPS, 16 stolen bases (good for a 117 wRC+). Contact, power, speed; it's all there for Anderson. The OPS isn't eye-popping, but consider that his power is starting to come along and his slugging percentage is due to start approaching where it was the last couple of years. Defensively, Anderson has taken a major leap forward, registering only 5 errors thus far, to the tune of a .981 fielding percentage. TA7 was error-prone in years past, as his previous career-best fielding % was just .967.
The advanced stats on Anderson's defense tell an even more impressive story. Fangraphs' metrics are a fan of Tim's defense in 2021, and Statcast pegs Anderson as MLB's eighth-best fielding shortstop via Outs Above Average. 5 OAA translates to the 94th percentile of all fielders!
---
All in all, Anderson is easily a top-7 shortstop in the MLB, and arguably a top-30 player as well. No one with those rankings should catch any heat from fans for being overrated! Moreover, consider that Anderson has been producing at this high level for three straight years now. Consistency is extremely hard to achieve in the MLB and is often undervalued. Besides a few short IL stints, the White Sox have been able to count on a great shortstop taking the field for them day in, day out, for three years now.
In the words of Jason Benetti: "Have all the fun you want, Tim Anderson!". You deserve it.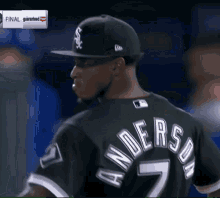 ---
Featured Photo: NBC Sports Chicago / Twitter