When it comes to injury news this season, the White Sox have a really tough time catching a break.
After already seeing Eloy Jimenez and Luis Robert on the shelf long-term, the White Sox added their third starter to the 60-Day IL today, as Rick Hahn announced Nick Madrigal suffered a proximal tear of his right hamstring. This occurred – as shown in the video above – late in the game last night as Madrigal was running out a ground ball to third base. In a corresponding move, Brian Goodwin was called up from AAA to take Madrigal's place on the roster.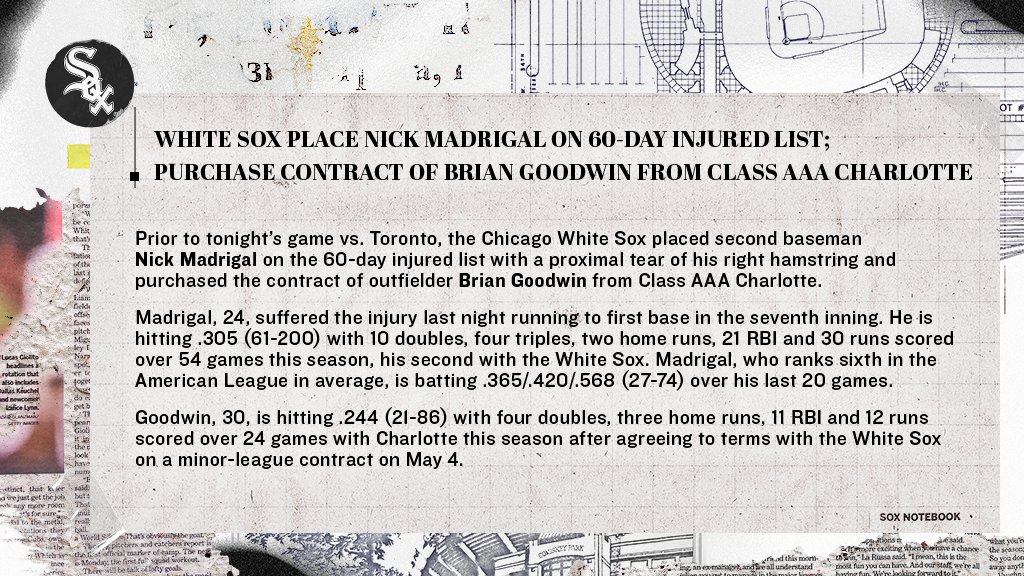 According to Hahn, Madrigal will be out of action for at least six weeks. However, part of the treatment could be a season-ending surgery that would require a much longer recovery time. The White Sox hope to know whether or not surgery will be required in the next week – however, Hahn has said that Madrigal suffered a complete tear of one of the three tendons connected to his right hamstring. In other words, it's not a great injury at all, and it's going to be a long time before we see Madrigal back on the field again.
Best case scenario is six weeks of inactivity, and then some sort of period (around 6 weeks) of recovery/rehabilitation from there. That takes us to September at best – however, this isn't necessarily likely by any means. The worst case scenario has already been outlined by Hahn above: season-ending surgery for Madrigal that will last well into the offseason.
Nick Madrigal's replacement on the roster, Brian Goodwin, has slashed .244/.316/.395 in 24 games in AAA Charlotte this season and will serve as OF depth at all three positions. In the meantime, Danny Mendick and Leury Garcia will fill Madrigal's void at 2B. However, it is likely that these two will not end the season as the starters at the position – either Madrigal will come back before season's end, or the White Sox will make a trade.
That being said – the season is only getting harder for Rick Hahn, as with another injury to a key starter, teams are able to clearly see that the White Sox need help badly. With each injury comes lost leverage for the White Sox – expect that if trades are made later this season, that they're going to hurt as a result.
---
In other injury-related news: Michael Kopech will resume throwing in the near future before a decision on the necessity of a rehab assignment is reached. It will be great to see his name back in the bullpen soon.
---
Look, this isn't great news for the White Sox. However, as they've shown twice before this season, they have the ability to overcome big injuries. The mantra now is exactly as it was before: next man up.
Let's go get the Blue Jays tonight.
---
We will continue to update you as more information is available. Follow @SoxOn35th for more updates.