It was a fun ride while it lasted, and it surely won't be the last.
White Sox starting pitcher Dylan Cease was named the second-place finisher for this season's American League Cy Young Award, losing out to Astros veteran Justin Verlander. This marks the third such honor of Verlander's career and was earned in unanimous fashion.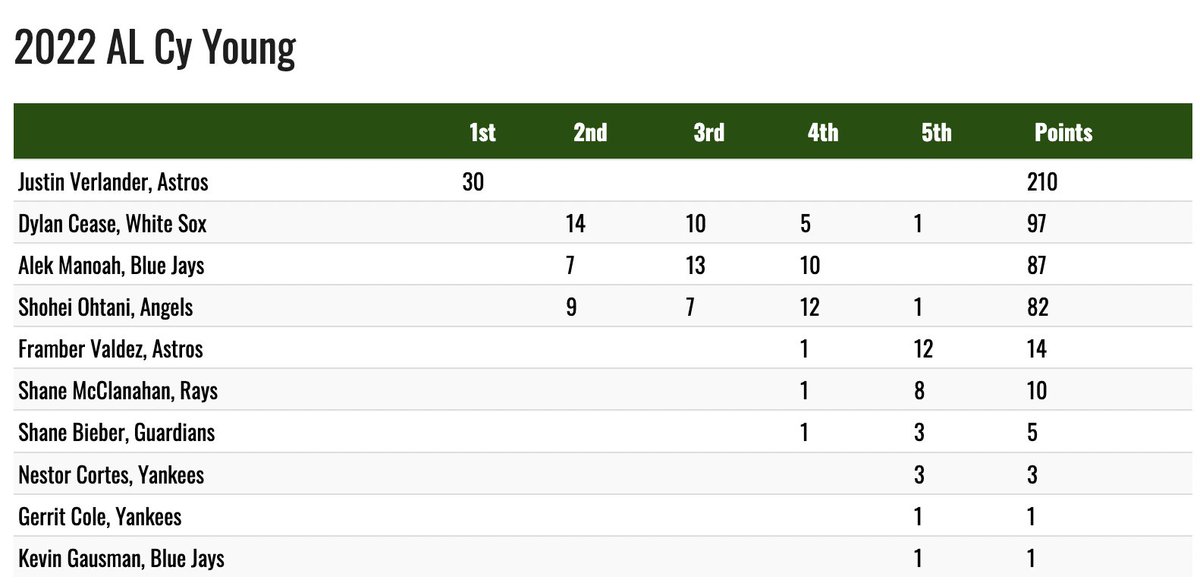 Cease, 26, had his long-awaited breakout season and continued the trend of improving upon his previous season's numbers. The righty was the owner of a 14-8 record, 2.20 ERA (184.0 IP/45 ER), 227 strikeouts, 3.10 FIP, 1.109 WHIP, and 227 strikeouts in 32 starts. Despite being one of the more notable All-Star snubs, Cease finished the season ranked second among qualified AL starters in ERA, strikeouts, and opponents average (.190) and third in strikeouts per nine innings (11.10).
While Cease's stats are impressive, Verlander was long viewed as the heavy favorite for the award after his remarkable comeback from Tommy John surgery. The 39-year-old World Series champion finished the regular season 18-4 with a 1.75 ERA (175.0 IP/34 ER), 185 strikeouts, 220 ERA+, and 0.829 WHIP in 28 starts. His ERA was the lowest by any AL starter since Pedro Martinez's 1.74 mark in 2000, when the Boston starter also won the Cy Young.
Manoah, the third finalist by way of the Blue Jays, figured to give Cease a run for his money for the two-spot. Toronto's young star ended his 2022 campaign with a 16-7 record, a 2.24 ERA (196.2 IP/49 ER), 3.35 FIP, 0.992 WHIP, and 180 strikeouts. The 24-year-old finished eighth in last year's AL Rookie of the Year voting and will surely be a force in the league for years to come.
In their history, the White Sox have had three Cy Young Award winners: Early Wynn (1959), LaMarr Hoyt (1983), and Jack McDowell (1993). They've also had contenders as recently as last year, when starter Lance Lynn finished third in the voting.
---
For more updates, be sure to follow us on social media @SoxOn35th!
Featured Photo: © Kamil Krzaczynski-USA TODAY Sports