YOU CAN PUT HIM IN THE HALLLLLLLL, YES!
---
Around 11 am CT Wednesday, Hawk Harrelson was announced as the 2020 Ford C. Frick Award winner. This award is presented annually to a broadcaster for "major contributions to baseball."
Here's a little bit more on the award from the National Baseball Hall of Fame website:
Voters are asked to base their selections on "Commitment to excellence, quality of broadcasting abilities, reverence within the game, popularity with fans, and recognition by peers." To be considered, an active or retired broadcaster must have a minimum of 10 years of continuous major league broadcast service with a ball club, network, or a combination of the two.

– Baseball Hall of Fame Website
Hawk certainly spent some quality time inside broadcast booths throughout his life. After starting out in Boston from 1975-1981, he came over to the White Sox. After announcing games from 1982-1985, he went on to try his hand at being a GM. After a tenure that even he would describe as a failure, he spent two season announcing Yankees games for SportsChannel New York.
Hawk returned to the White Sox in 1990 and never turned back. Back in 2018, he called his final game in the booth, amassing 42 seasons as a broadcaster (33 with the White Sox).
And he certainly racked up some solid awards over the years too.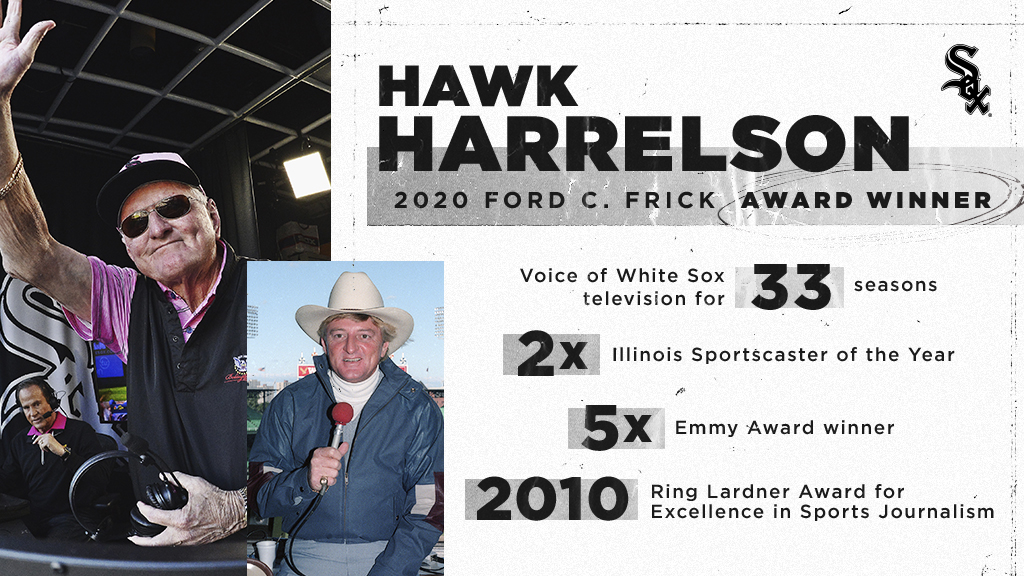 Here's Hawk when he got the call:
Love him or hate him, Hawk has been an icon across baseball for that exact reason – you never had to hear a game to hear his name and have an opinion on him. While you could never fully appreciate Hawk without listening to a game, you always knew who he was.
Whether he was comparing Todd Frazier to Kris Bryant or running to the Sox dugout to check on Frazier after an injury, Hawk always had the Sox' back. This team was his life – and he wanted each White Sox fan to know he was living and dying on every pitch along with them. He helped each of us love the game and the White Sox as much as he did. Every game, every pitch, it all meant something to him. And there was a beauty in that as a fan – a beauty that anyone else will have a very hard time capturing. His passion is his best quality – and you could see every bit of that passion in the video above. This award means the world to him.
I grew up with Hawk just like all of you. I mimicked his calls when I was younger – and hey, we all still do it I'm sure today. Hawk was an absolute legend to the game, and we are all lucky to have the experience of his calls. But get ready for July, because we will get that Hawk experience one more time at the Hall of Fame ceremony. I can't wait for that.
Trying to explain who Hawk is to a non-White Sox fan or even young baseball fans is not an easy thing to do. How do you describe a man with THAT much character? Thankfully, the voters made it a bit easier on us today.
Who is Hawk?
Well, he's a Hall of Fame broadcaster. One of the best to ever do it.
---
Featured Photo: White Sox/Twitter (@whitesox)